TextRich.com
Teaching and Learning Since 2002
Grand Rapids Strat-O-Matic League (GRSOM)
2021 Season
Latest update: May 9, 2021
This is a web site for the Greater Grand Rapids Strat-O-Matic Baseball League, also known as GGRSOMBL, also known as GRSOM. Our league has been in existence since 1982! Our first full season using the computer game's NetPlay feature was 2018 (2017 roster). We are now playing our 2021 season using the 2020 60-game computer roster. We play all our games using NetPlay when possible. We are expanding from 12 to 14 teams in 2022 (next season). We hope you enjoy following our league almost as much as we enjoy playing in it!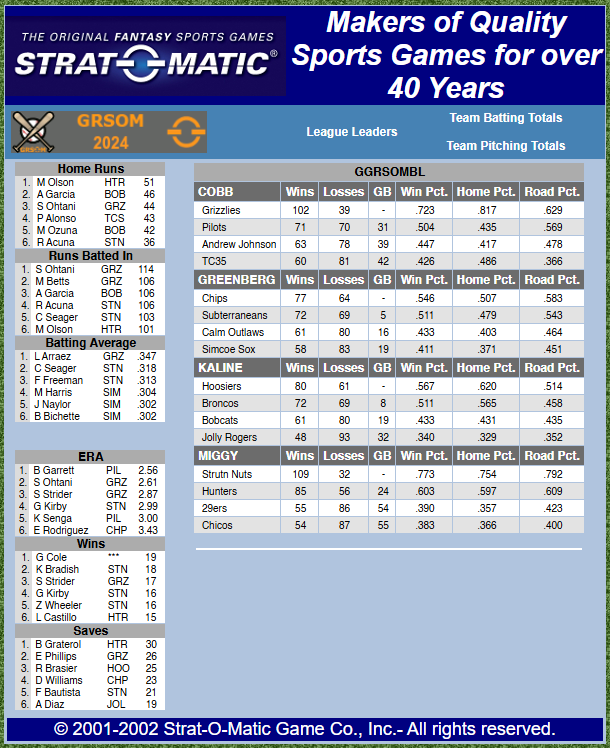 Click the above image to view league stats from the SOM game's WebBuilder in a separate tab. For now this will show last year's WebBuilder until our first week is completed.
News
We are now on our annual real-world summer break. We will resume play the week of September 6.
What's New for the 2021 Season
We will use the 60 game actual set and players' usage will be multiplied by 3.
We will play a 162 game schedule.
We will allow no more than 26 players on the roster in the regular season and the playoffs. We will keep the old 40-man max September call-up rule.
We will have a 2-player COVID-19 list. Selected players stay on the list (if they opted out in real life) and do not count towards the roster limit, but will not play at all in the season.
We will follow the 3-batter minimum rule for relievers. The last out of the inning satisfies the rule.
We will NOT use the man on 2B rule for extra inning games. We do not play doubleheaders anyway so the 7-inning rule does not apply to us.
We will expand to 14 teams for the 2022 season (2021 roster). The plan is to have two divisions of seven teams rather than three.
We agreed at the meeting to try 60-days-max injury rules for the first 1/3 of the season, no injuries for the second 1/3, and 15-days-max for the third 1/3. This is to help us determine one injury rule we will keep for the entire 2022 season.
We agreed to allow 40 players maximum in September and revert to 26 players maximum for the playoffs.
Regular Season Results
Week 7 (May 6 to May 11, 2021)
Week 6 (April 29 to May 4, 2021)
Week 5 (April 22 to April 27, 2021)
Week 4 (April 15 to April 21, 2021)
Week 3 (April 8 to April 13, 2021)
Week 2 (April 1 to April 6, 2021)
Week 1 (March 24 to March 30, 2021)
---
Reports
This SOM-generated league report has:
League Standings
Overall Records
League Leaders
League Grand Totals
Manager Profiles
Injury/Minor Reports
Line Scores
Newspaper Game Stories (incomplete, read the results insted)
Awards Voting
The previous day's best performance
Who's Hot and Who's Not
Record Book
---
Teams
League History
Since this isn't big enough for its own page yet, here is a list of previous league award winners. The year corresponds to our season year, meaning we used the players' cards from the prior year.
Year
MVP
Cy Young
Manager of the Year
2020
Mike Trout (Strut'n Nuts)
Jacob de Grom (Strut'n Nuts)
TRY (Strut'n Nuts)
2019
Jacob de Grom (Strut'n Nuts)
Jacob de Grom (Strut'n Nuts)
TRY (Strut'n Nuts)
2018
Giancarlo Stanton (Hunters)
Corey Kluber (Chico's Bail Bonds)
RVS (Hunters)
2014
Chris Davis (Grizzlies)
Max Scherzer (Strut'n Nuts)
2013
Miguel Cabrera (Grizzlies)
Justin Verlander (Lightning)
2012
Prince Fielder (Gold Sox) and Matt Kemp (Wolfpack)
Clayton Kershaw (Wolfpack)
2011
Miguel Cabrera (Quail)
Mat Latos (Quail)
2010
Joe Mauer (Wolfpack)
Zack Greinke (Wolfpack)
2009
Justin Morneau (Firebirds)
Roy Halladay (Wolfpack)
Go back to TextRich's Strat-O-Matic Baseball page.
©opyright 2021 by Richard Knopf